Smart tips for a safer summer
Thursday , 26 October 2023
- 4-5 minute read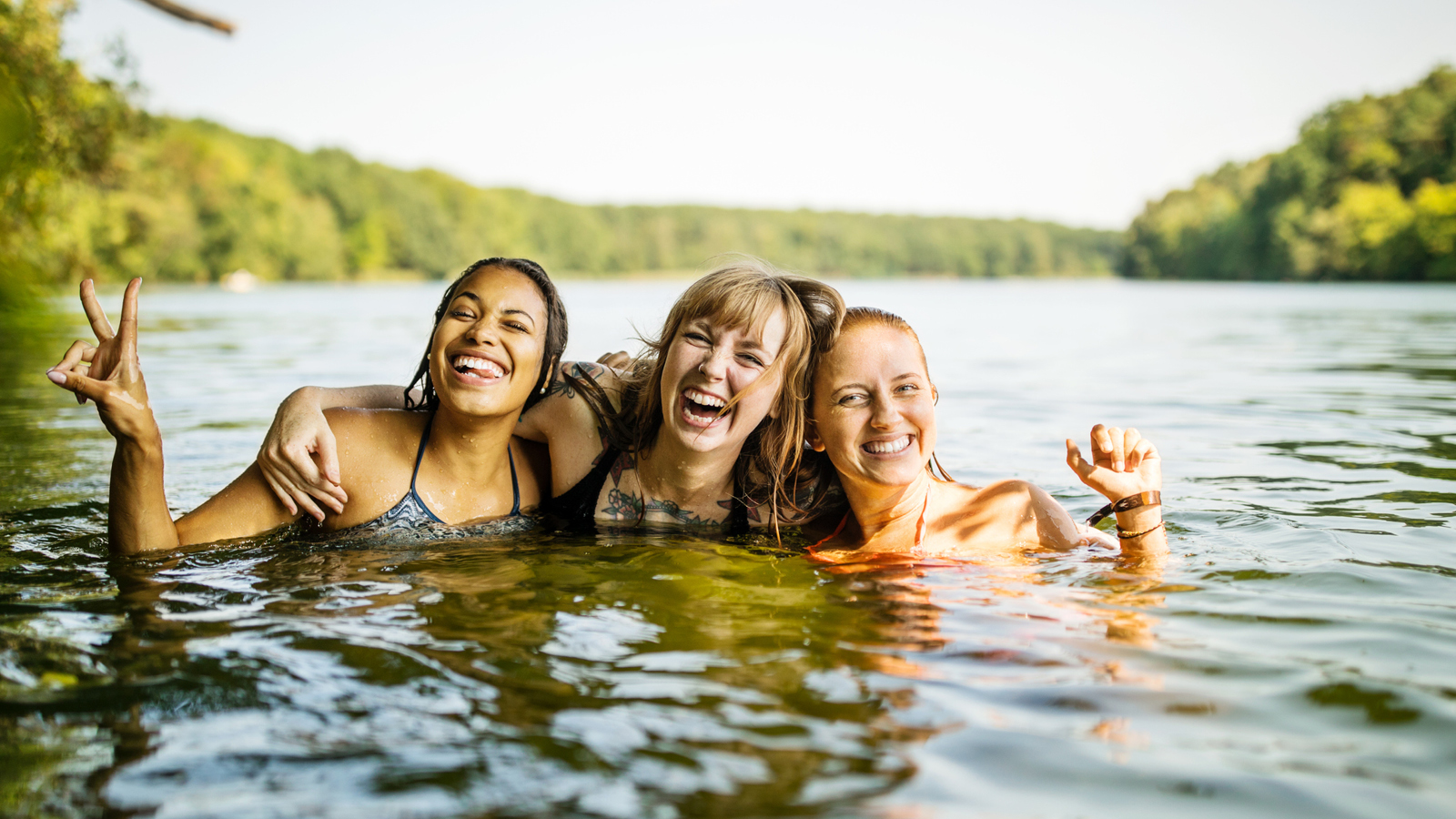 Wellness
We all love a great summer, and that starts with staying safe. We cover off a few essential tips to ensure fun in the sun this season.
There's nothing quite like the New Zealand summer to help you relax and unwind. It's a great time to create memories that will last a lifetime with your family. Just make sure they're memories you'll remember for all the right reasons.
To help, here are some of our top tips to stay safe and enjoy your time in the great outdoors - wherever you're heading this summer:
AT THE BEACH
1) Use sunscreen
Sunscreen is a must during every Kiwi summer. So be sure to apply it before you even hit the fresh air, and re-apply every couple of hours or so – more if you've been swimming or perspiring a lot. Don't skimp either. Make sure you apply it everywhere, including all those places you don't necessarily think about such as ears, lips, and the tops of your feet. Oh, and as a rule, best to use a high SPF (sun protection factor) of at least 30. That New Zealand summer sunshine is powerful stuff.
2) Cover up when possible
It may not always be practical at the beach, but try to cover up when you're out in the direct sunlight. Whether it's a T-shirt and long shorts, or a wrap over your shoulders – plus of course the obligatory hat. A rash shirt is also advisable when you're in the water. Why? Because although you may feel cooler, the sun's rays are magnified by H2O which means you'll actually burn quicker while swimming.
3) Wear sunnies
Slipping on your shades isn't just about looking cool. It can also prevent serious damage to your eyes from glare and harmful UV rays - as well as unwanted wrinkles! Whatever style you choose, just make sure they're up to the job with a UV protection level that meets with NZ safety standards. Then you're good to go.
4) Stay in the shade
If you're planning on spending a prolonged period at the beach, try to look for shade whenever possible. Trees, sunshades, pop-up tents, whatever you can find is a good option. And remember, always stay out of the sun around midday when the sun's UV rays are at their strongest and most harmful - that's for mad dogs and Englishmen!
5) Keep an eye on your skin
Skin cancer is the most common cancer in New Zealand, and our skin cancer rates are the highest in the world. In fact, instances of melanoma here are four times higher than those in Canada, the US and the UK.1 All the more reason, then, to check yourself regularly for any moles or skin patches that have appeared or changed recently. If you have any concerns, visit your GP or see a skin specialist immediately.
BY THE RIVER
1) Look before you leap
Due to their constant flow, rivers can be changeable and highly unpredictable, with potential dangers lurking just below the surface. So instead of just jumping in and hoping for the best, be sure first to look for hidden underwater objects such as branches, rocks or glass, and wear appropriate footwear if possible. Also, river banks can also become unstable over time, especially with all the flooding we've had recently, so watch your step!
2) Check for currents
The eddies, flows and currents in a river can be as unpredictable as at any beach, especially near dams. So if you're swimming, check you're not going to be swept away. And if you're wading, make sure you have a staff to support you, or another person alongside to help you stay balanced. Even if the river looks calm, it can still be moving at a fair pace.
3) Take care crossing
Crossing any river alone can be hazardous and is not recommended, especially if the water levels are high. In fact, 80% of river crossing drownings have occurred when the river has been in flood.2 If you must cross, make sure you check the speed of the river first. Look downstream for any hazards, and work out your entry and exit points carefully. Take small steps and cross diagonally downstream to conserve energy without constantly fighting the current. And link up if you're in a group.
4) Swim in a group
Summer swimming in the river can be idyllic. Just be sure to choose your spot carefully. Remember, it can be a very different proposition to swimming in a pool or the sea, and even the river bed can change depth on a daily basis, so take extra care splashing about. Similarly, it's never a good idea to swim alone, for obvious reasons.
5) Stay sober Danger
In the 1800s, drowning was actually declared death by natural causes because so many took place every year. Because many are dammed, our rivers may not be quite so powerful any more, but thay can still pack a punch. And if you're under the influence, your reaction times are slowed – could literally be the difference between life and death.
IN THE BUSH
1) Choose a suitable track
First things first, if you're going tramping make sure you choose a manageable track for everyone in your party. It may sound obvious, but most incidents occur because the original plan was too ambitious, or unsuitable for people in the group such as children or older adults. So take into account the length and time you're thinking of, the difficulty of the terrain, and of course the weather forecast.
2) Watch out for tricky terrain
When the landscape is so beautiful it can be easy to forget that the ground under your feet may be treacherous, with hidden snags and holes you can't always see. So always pay attention to where you're treading, and place your feet with care and attention, especially on loose rocks, wet ground or around tree roots. And if you're walking down a slope, push your heels – or you may find yourself going downhill faster than you'd bargained for.
3) Protect your ankles and knees
Even the fittest bodies can hit problems, and the last thing you need is joint issues or muscle fatigue in the middle of nowhere. So make sure you warm up with some light stretches before you start. Equipment-wise, wear comfortable boots, keep your pack light, and take breaks to keep as much strain off your legs as possible, especially if you're going a decent distance.
4) Prevent falls
The bigger drops such as cliff edges are often obvious out in the wild. What you need to look out for are the smaller ones – maybe only a metre or two – which can take you unawares with damaging consequences. So keep aware of drops, especially when you're tired. You don't want to be calling for help unless strictly necessary.
5) Always pack essentials
Talking of which, there are certain things you should definitely take on even the shortest walks in the countryside. A mobile phone is a good idea for many reasons – navigation and emergency calls being two, as long as you have reception. A waterproof jacket is also a good idea, as is layered clothing. And most importantly of all, remember to carry plenty of water. Around 2 litres if you're planning on walking all day.
These are just a few safety guidelines for the typical Kiwi summer, which is hopefully going to be a good one this year. Now get out there and enjoy yourself – you've earned it!
Reference:
1 https://www.sciencelearn.org.nz/
2 https://www.watersafetynz.org/river-resource
Other reference:
https://blog.healthcareplus.org.nz/hcp/get-ready-for-summer-sun-safety-tips#:~:text=Always%20cover%20up%20when%20you,in%20the%20shade%20when%20possible.
https://www.thegashub.co.nz/learn/comfort-zone/wellbeing/be-sun-smart-this-summerhttps://siteman.wustl.edu/for-your-health-10-sun-safety-tips-for-summer-fun/
https://www.watersafetynz.org/river-resourcehttps://www.live-work.immigration.govt.nz/resources/stay-water-safe
https://www.mountainsafety.org.nz/read/summer-tramping-outlook-how-to-avoid-becoming-an-injury-or-search-and-rescue-statistic/