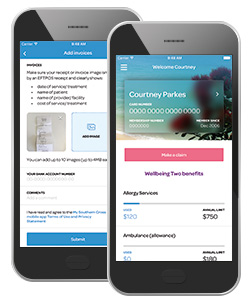 Download the My Southern Cross app
Once you're registered for My Southern Cross you can download our app to manage your policy on the go. With the My Southern Cross app it's easy to:
Make instant claims*
Claiming is as easy as taking a photo
Claim on the go, wherever, whenever
Claims are usually reimbursed within 5 working days
Request prior approvals*
Request prior approval for healthcare services to make sure you or anyone on your policy is covered
Check annual benefit balances
Check your annual benefit balances
Use it as your Member card
Show the virtual Member card at participating healthcare providers to use Easy-claim
Identify yourself as a Southern Cross member with Affiliated Providers, or to enjoy special member discounts and offers
To download the app, you'll need at least the iOS 10 operating system on Apple or version 6 (Marshmallow) on Android.
*Only registered policyholders can make claims.