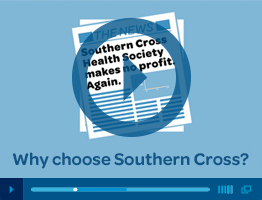 Your health comes first, that's why making the decision to get health insurance is an important one. Being New Zealand's favourite not-for-profit health insurer we can focus on giving you better service and better value healthcare. For every $1 paid to us in premiums, we paid out an industry leading 86 cents in claims (year ended June 2016). Find out all the reasons to put your health in safe hands with Southern Cross.
Extra member benefits
10% healthy lifestyle joining discount*
Get a 10% joining discount just for living a healthy lifestyle. The discount is available to individual and voluntary work scheme members and can last up to two years from joining.
10% low claims reward*
A 10% discount after two years of low claims. You can continue to get this discount every year for as long as your claims are low. This is available to individually billed members who aren't in an employer scheme. More.

2.5% direct debit discount*
Save 2.5% on your premiums just by setting up and paying by direct debit.

Pay for 2 kids, the rest are free*
Your third and following children can get free health cover when you add them to your policy.

Pre-existing conditions cover for newborns*
If you've been a member for 3 months and you add your baby before they're 3 months old, we'll cover their qualifying pre-existing conditions.

Child rates until 21 years*
Pay only child rates until your children are 21 years old.**

*Terms and conditions apply. See policy documents here.
**One rate for children aged 0 to 21. Subject to standard annual premium changes.
Partner offers
We've partnered with some of NZ's favourite health providers, so you can benefit from being with us all year round.
Free eye exam & save 15% on glasses
Get a free eye exam and retinal scan and save 15% on a range of prescription and non-prescription glasses at OPSM. More.
Free hearing test
Get a complimentary diagnostic hearing test valued at $85 and save 10% on a selected range of hearing aids. More.
5% off dental treatments
Get 5% off dental treatments at Lumino. New patients also get a half-price exam and x-rays. More.
25% off & half price eye exam
Get 25% off when you purchase 1 pair from the $169 range or above and a ½ price Eye Exam at Specsavers. More.

2.5% discount on pet insurance
Get a 2.5% discount when you cover your furry family too. More.

35% discount when you buy travel insurance online
Get a special rate plus 35% extra off when you apply online. More.
10% discount off your life insurance premium
As long as you're a Southern Cross Health Society member you can get 10% off your Southern Cross Life Insurance premium. More.