We're New Zealand's most trusted health insurer1
Over 940,0002 New Zealanders have chosen Southern Cross to be their health insurer - that's more than any other provider. The number of members we have continues to grow, and here's why:
We are not-for-profit
We pay more claims than any other provider
We make claiming easy and fast
Our plans look after your whole family
Discounts for healthy living and more
Exclusive member offers
Looking after member's health since 1961
We've been looking after our members for over 60 years, becoming the largest and most trusted1 independent healthcare network and health insurance provider in New Zealand.
Southern Cross was founded on the belief that New Zealanders deserve access to private healthcare. We remain true to this commitment today: we're here to help you get the care and protection you need to live your life to the fullest.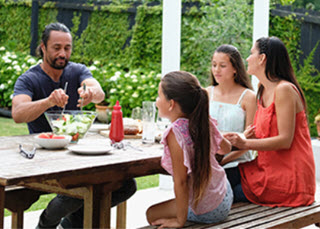 Here for our members, not shareholders
Southern Cross is a not-for-profit Friendly Society, so unlike other health insurers, we have members not shareholders. This means our members are our priority. We're fully focused on providing the best possible cover, so you can live your life to the fullest.
We pay more claims than any other NZ health insurer
We paid 72% of the value of all health insurance claims paid in NZ in the last financial year2 Over 88% of what we received in premiums was paid back to our members in claims3 – that's compared to just 66% for the rest of the industry.
We take the stress out of claiming
When you need to claim, do it online or through the My Southern Cross mobile app in a few simple steps. Once everything checks out, we'll pay quickly, usually within five days. Even easier, use Easy-Claim or an affiliated provider and they'll take care of your claim for you.
Add children to your policy for less
Unlike many corporates who charge adult rates after 13 years, you pay child rates for your children until they're 21 years old. Even better, after your first two children, any other children under your health insurance policy are covered for free. 4 Newborns added within 3 months of birth have pre-existing conditions covered (general policy exclusions apply).5
Save with our healthy discounts
We want your cover to be of great value too, so we also look after your pocket with discounts for healthy living, low claims and paying by direct debit.6
Exclusive offers for our members
Save on everyday health and wellbeing services such as eye tests, hearing tests, dental treatments and gym memberships. Members also get discounts on Southern Cross Travel Insurance, Pet Insurance and Life Insurance.
Take the next step
Interested in Southern Cross health insurance? Here are two ways to take the next step.
---
Reader's Digest Most Trusted Health Insurance Brand, 2017 - 2023.
As at 30 June 2023
For the 12 months ending 30 June 2023.
Not applicable for HealthEssentials.
Terms and conditions apply, see the policy documents for each plan.
Discount is not applicable to Cancer Cover Plus.