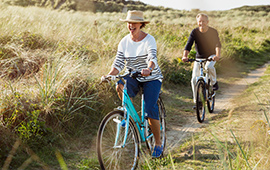 How to stress less and live more
For 2.6 million years we lived as primitive tribes, always alert to sudden and life threatening events. Thankfully most of us now live in more stable, settled societies. However, the primitive part of our brain is still constantly scanning our environment looking for threat, ready to fire with the hint of anything alarming.
---
Six ways to being well
Wellbeing is about humans flourishing, achieved through the proactive care of our mind, body and spirit. We share 6 ways to achieve wellbeing in your work week.
---
Understanding stress
Understand the physical changes your body undertakes during stressful situations, and how you recognise these
---
Staying on track with your New Year's resolution
With the New Year comes the New Year's resolutions, and many kiwis are taking the opportunity to part ways with unhealthy habits in 2018. Here's eight tips to staying on the bandwagon with your goals... and what to do when things don't go according to plan.

---
The cure for Mondayitis
It's Monday, and you're at your desk wishing you weren't at your desk. What can you do to make Mondays manageable, or even positively enjoyable? Here are some ideas from our team.

---
Reduce your risk of cancer
Cancer can affect anyone at any age, but when you're young, you expect your mind and body to keep up. Some people will be more genetically protected from cancer than others, but evidence suggests we may be able to keep some of the bad genes turned off by living a healthy lifestyle.
Here are 13 proven ways to lower your risk of cancer.
---
Help her during pregnancy
Having a baby or know someone who is? Support and understanding are the biggest things you can offer a new mum. Here are our top five things that will help you, help her.