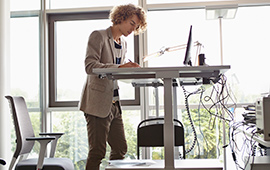 Surprising ways that sitting is bad for your health
Whether it's staring at a screen, traveling to and from work or sitting at a desk all day, it all adds up. Yet the simple fact is that our bodies just weren't designed to sit for long periods, and this sedentary lifestyle is beginning to take its toll.
---
Get in shape without a gym membership
Gyms aren't everyone's thing. If you want to get fit without setting foot in a gym, read our guide to find activities you'll enjoy and want to stick to. Feel happier and healthier in 2018.
---

Couch workout
Here's proof that you can tone your muscles anytime, anywhere – even while you're watching a movie or your favourite TV series. All you need is a couch. Leg raises, triceps, glutes – the couch has it covered.

---
Walking – the wonder exercise
Without making any conscious effort to exercise, you probably walk about 5,000 steps a day. Research tells us that upping this to 10,000 a day helps to keep your heart healthy and your weight down – two results that will do heaps for your long-term health. We've got some tips to get you in the mood for walking.

---
Rainy day exercises
Even the most dedicated exercisers find it difficult to walk, cycle or run when it's miserable outside. We've put together a bunch of ways you can exercise in side – dancing is a great one! No excuse really.