Wellness in the Workplace Survey 2017
About the survey
The survey, carried out between February and April 2017, canvassed 109 private and public sector businesses representing more than 93,000 employees (about 5% of New Zealand's workforce). The survey is carried out by Southern Cross Health Society and New Zealand's largest advocacy group for enterprise, BusinessNZ.
6.6m working days lost due to absence
New Zealand lost 6.6 million working days to absence at a cost of $1.51 billion in 2016 - down from 6.7 million according to the findings of our third biennial Wellness in the Workplace Survey.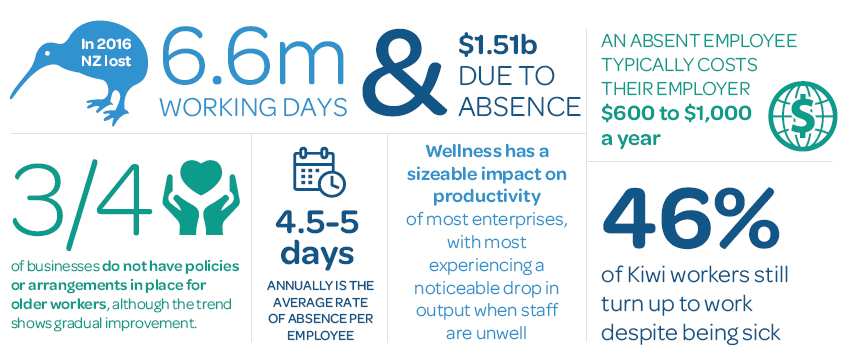 BusinessNZ Chief Executive Kirk Hope says trends are now forming about workplace absence and its causes. "In 2016 New Zealand lost an average of 6.6 million working days to absence and, in reflecting over the life of the survey, we can now see the country loses an average of 6.1 million to 6.7 million days annually."
Hope says that level of absence comes with a significant price for the economy - around $1.51 billion in 2016 and $1.41 billion a year on average over the past five years.
The impact of stress

Stress levels, although moderate, are on the rise for the second consecutive time with general workload being the main cause of anxiety. Southern Cross Health Society Chief Executive Nick Aswick says the findings are concerning, but not surprising.
"Last year we surveyed more than 500 of our corporate customers and for those that have a wellbeing initiative in place, their top motivator for doing so is to reduce stress. But New Zealand is by no means unique in this area. It's estimated around 38 per cent of the world's workers are suffering from excessive pressure on the job1."
Both larger and smaller businesses are now more likely to have some form of employee assistance programme to help staff manage stress.
Astwick says Southern Cross Health Society's newly launched BeingWell hub is a direct response to businesses seeking help to resource and implement a workplace health and wellness programme.
"The digital hub allows businesses to work with Southern Cross to tailor a package to suit their needs and budget, ranging from free online starter kits through to bespoke coaching and expert seminars."
Ageing population
Despite the importance of workplace health and wellbeing being increasingly recognised, three out of four businesses still don't have policies or arrangements in place for older workers.
The survey results show around 60 per cent of staff in large businesses are likely to retire in the 65 - 67 age bracket, but among smaller firms staff are more likely to work beyond 65, to the extent that more than 13 per cent of smaller businesses having a typical retirement age of 71 or older.
The most common steps businesses are already taking include offering reduced or flexible hours of work, providing retirement information packs and undertaking age neutral recruiting.
Hope says it's crucial that all businesses ensure they have the right balance of policies and practices in place so they maximise older workers' contributions, don't lose skills and experience prematurely, support their older staff effectively, and have succession and retirement planning options in place.
Five steps to workplace wellness

1 Wellness Council of America (WELCOA)