Absenteeism
About the survey
These are some of the key findings of the 2015 survey - a joint study undertaken by Southern Cross Health Society and New Zealand's largest advocacy group for enterprise, BusinessNZ.
6.7m working days lost due to absence
New Zealand lost 6.7 million working days to absence in 2014 - up from 6.1 million in 2012 - according to our second Wellness in the Workplace Survey.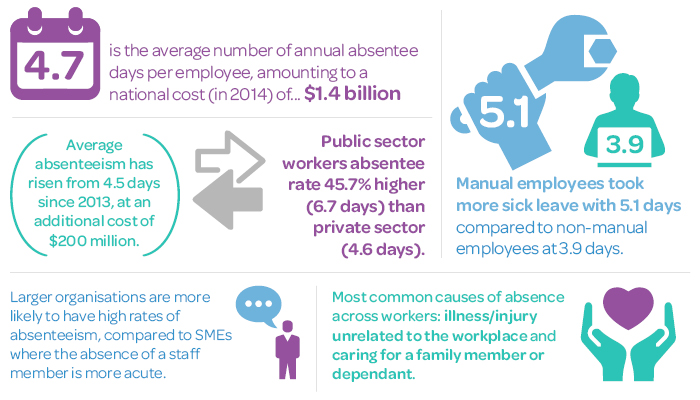 Southern Cross Health Society Chief Executive Peter Tynan says the survey is an important benchmark for business owners and policy makers alike. "Employers need to identify what lies behind these trends and consider what they can offer or change to make their workplace a healthier place for their staff. Introducing or expanding wellness policies, free flu jabs, health checks, using staff information effectively, having more flexible hours or the option to work from home are ways in which to keep staff healthy and engaged."
The impact of stress
Stress levels rise in New Zealand's big businesses

Stress levels in big businesses are on the rise, bucking a nationwide trend where 6/10 businesses have seen stress stay roughly the same.

Phil O'Reilly, BusinessNZ Chief Executive, says the findings should act as a wakeup call for businesses without wellness plans in place.

"This survey has shown that stress in the workplace is a critical issue to address. Businesses need to try and mitigate this to get the most out of their workforce and give their workers the best environment possible to be productive."

Southern Cross Health Society Chief Executive Peter Tynan says as external factors can greatly impact professional performance, businesses should aim to foster a culture that promotes a positive work life balance.

"High levels of stress tend to lead to health issues in the long run. It takes time and effort to train and develop staff, so looking after them and providing a healthy workplace is just good business practice.

"Options to manage stress like flexible hours, employee assistance programmes, health checks, devices that allow staff to work from home, and financial literacy seminars are all good options to consider," says Tynan.
Workplace illness
Kiwis continue to turn up sick to work
Despite a culture change where businesses encourage unwell workers to stay home, over a third of Kiwis continue to turn up to work sick.

"The survey showed the percentage of ill staff who should have stayed at home but turned up for work dropped in 2014, following a culture shift of more enterprises encouraging sick employees to stay home when unwell.

"While these are positive steps for staff wellbeing there is still a disconnect between culture and reality as over a third of workers show up to work sick," says O'Reilly.

Southern Cross Health Society Chief Executive Peter Tynan says part of that will be down to New Zealand's high number of SMEs. In a small business a staff member being absent is much more acutely felt than in a large organisation. There may be an element of guilt which is causing unwell workers to feel like they need to come in.

"Prevention is better than cure. Some of the best ways to combat illness is for employers to look at initiatives like wellness policies, free flu jabs, health checks, having more flexible hours or the option to work from home as ways of keeping staff healthy and engaged.

"Businesses need to have a more up-front policy, so staff know what is standard practice and what is expected of them when they're unwell. There is no point in sick staff coming into work as they then spread bugs around the rest of the workforce and often take longer to get better themselves."
Top 5 reasons for absenteeism: