Inclusive and welcoming
Southern Cross is a safe, inclusive and welcoming friendly society, and we embrace the diversity and equality of our members, staff and communities alike.
To help us build a better relationship with our members and meet your expectations, it's important we understand and respect differences, including age, gender, ethnicity and disability.

Southern Cross is now Rainbow Tick accredited which recognises our ongoing commitment to creating an inclusive environment for lesbian, gay, bisexual, transgender, takatāpui and intersex (LGBTTI) members and employees, where they feel safe to be open about sexual orientation and gender identity. The information below is to help LGBTTI members and their families in applying for a Southern Cross insurance policy.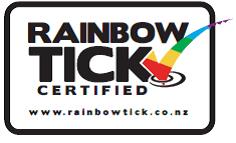 Biological sex
To establish cover under our Cancer Assist and Critical Illness policies, and to apply our Healthy Lifestyle Rewards, we need to know an applicant's biological sex. In most cases 'biological sex' is that assigned at birth – however this may be different for people who are intersex or have had gender affirmation surgery. The guidelines below can help, but if you are unsure which option best reflects your needs please contact us.

Intersex - if you (or your dependant) are intersex:
with a male or female classification – please select the legally identified sex.
with an X classification – please answer the questions that are applicable to your personal circumstances.
Gender affirmation surgery - once you have undergone gender affirmation surgery which legally entitles you to be recognised as another biological sex this option can be selected on your application, or you can have it amended on an existing insurance policy. If the request to change your biological sex is accepted then:
it will change premium rates on our Cancer Assist and Critical Illness policies and the new rates will apply from the date of policy amendment, and
the change to biological sex will be made on all Southern Cross insurance policies.
Please note that gender affirmation surgery and directly related healthcare services are not covered under our health insurance policies.
An individual's gender can be different to their biological sex
To help Southern Cross build better relationships, based on understanding and respect, at any time you have the option to advise us or update the gender you identify with (male, female or gender diverse). We understand that your biological sex may be different to your gender identity.