Three days at the office two days at home
Thursday , 9 September 2021
- 3-4 minute read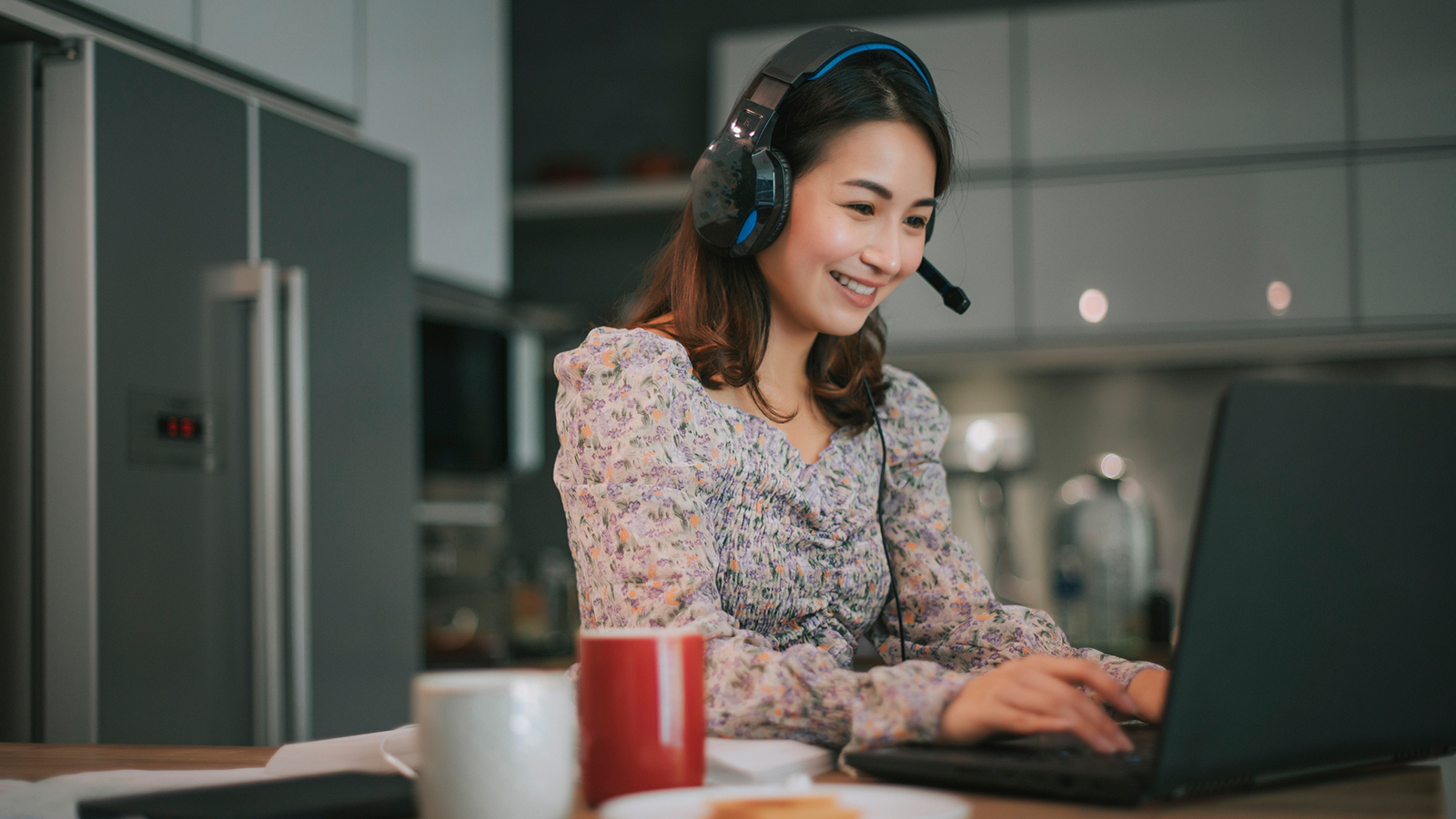 Workplace
If there's one positive that the COVID-19 pandemic has achieved for the working world, it is bringing the issue of remote working to the fore.
Even those companies that may once have shied away from enabling staff to work remotely for sustained periods, are now having their eyes opened to working practices which promise to become closer to the norm for the foreseeable future. An experimental baptism of fire, you might say.
Enforced or not, the pandemic was able to underline some of the undeniable benefits that remote working or 'Working From Home' (WFH) can bring, namely: increased productivity, lower business expenses and better contingency planning. Not to mention possibly the most important of all, improved employee satisfaction.1
What workers want
The importance of flexible working for staff was the main focus of the recent Southern Cross BeingWell Labs virtual conference in November. Keynote speaker Mary-Jo (MJ) Kaplan, independent consultant and long-time advocator of flexible working, suggested that the 9 to 5 norm was not only seriously outdated, but also detrimental to a company's progress and productivity.
From a business perspective, companies want to attract good and talented staff, engage them on their own individual terms, and support their health and wellbeing so that they can flourish in what they do. Employees, too, seek purpose and accomplishment in their roles, but there is often a disconnect between them doing their best work and how that work is structured. And of course, every employee is different.
In essence, workers crave autonomy. And oddly, although it has been a hugely stressful period for many, COVID has proved the catalyst for helping them to achieve more of it.
Pandemic positives
According to MJ, COVID has given many companies a greater appreciation of their people, and their understanding of the importance of health and wellness in the workplace – wherever that may be. For example, she says that Unilever have completely overhauled their approach to staff wellbeing, in part thanks to the pandemic. Notably, Google too have recently extended their '3 days in office, 2 at home' COVID experiment, with the aim of achieving greater productivity, collaboration and wellbeing for workers.2
But however big or small your company, MJ reinforces our need to redesign flexibility in order to transform our way of working, and taking a more holistic view of work practices. "It's a process that requires a fresh perspective," she says, "an ongoing journey of small steps and an understanding that where employees are concerned, one size definitely does not fit all."
The New Zealand perspective
Also taking part in the BeingWell Labs 2020 conference were business leaders from five of New Zealand's most respected and progressive companies, with flexible working initiatives already firmly in place when COVID hit:
Kate Rengey from OMD told us that her media agency has been exploring various forms of flexible working for over 2 years now – and she herself now prefers a 3:2 split for office and home.
Ryan Ghisi at Xero said that they have had a wellness playbook in place for some time too: a traffic light system that takes a very human approach to staff health and wellbeing and takes into account individual needs across many roles, in many different countries.
Zespri HR guru Edith Sykes also sang the praises of a people-centric approach to workplace management, and related how through flexible working and creating better connections with staff, they had turned a potential disaster (COVID hit during kiwifruit season) into their best season ever.
Tracey Button at Ingram Micro even went as far as wishing that COVID had happened sooner for the advances in flexible working it has enforced upon the company. And that although the pandemic restrictions hit some her staff harder than others - notably warehouse staff who were deemed essential workers - the learnings they've taken from lockdown has enabled them to completely rethink their practices for the better.
And Southern Cross' very own Vicki Caisley told us that, despite being fully prepped for COVID, the reality still came as a shock. And how it helped the organisation develop new ways of working and communicating with staff, including how to onboard remote workers – even while moving company HQ!
In fact, all our panellists also stressed the importance of engaging with staff on an ongoing basis when it came to implementing flexible working policies in the workplace. That by listening to their requirements on an individual level, and acting accordingly to fulfil those needs, it was possible to achieve amazing benefits for both employees and business as a whole.
Refer to manual
That's all very well when you have an office job. But what about if you're a blue collar worker? How does flexible working translate to more manual labour, where a fixed location is very much part and parcel of the job?
According to the Society for Human Resource Management (SHRM), the issues surrounding on-site staff are naturally more complex when WFH is simply not an option. But that doesn't mean you can't offer a better work/life balance to give your company a sharper competitive edge.
Perhaps unsurprisingly, they also suggest that HR can play a major role in making things happen, and in dispelling some of the myths that companies may perceive with respect to flexible working practices for blue-collar employees.
For example, even before COVID, many companies with onsite manual workers were likely to have attendance issues – workers taking unexpected leave or calling in sick last minute – a potential logistical nightmare for managers needing to cover all the hours a task demands. Ways around this might be introducing a 4-day week, scheduling shift hours into increments to give workers a 'break' when required (e.g. for trips to the dentist), or destigmatising taking paid or unpaid leave. All of which could help to reduce the risk of those dreaded 'taking a sickie' phone calls.
The important thing to remember is that while white collar workers are generally willing to trade working longer hours for added flexibility, blue collar workers tend to value stability over flexibility. It seems they just prefer a little wriggle room, and the support (and remuneration) to reinforce the fact that they are respected, valued and cared for.
Moving forward
Whatever your role, there are some commonalities that are worth bearing in mind as we journey through this new world of flexible working. With this in mind, here are some of the learnings we can all take thanks to COVID:
1) Use your new 'commute'
Tedious though it may be/have been, commuting to work gives us structure in our day and provides a clear demarcation zone between those two worlds. So if you do now find yourself working from home, try to use that spare commute time to get into 'work mode'. Plan your day, either by making a list - or while taking a short 15-minute walk. It's not just some added exercise, walking is also proven to reduce stress.3
2) Identify one daily win
As we all know, to-do lists can often get on top of you – especially with so many internet-related distractions now accessible in our lives. So before you find yourself drowned in the minutiae of emails, messages or social media, set yourself one main goal or task for the day and make sure you complete it. That way, you'll have at least one win under your belt, and you can down tools with a daily sense of achievement.
3) Schedule in 'doing time'
In this new world of video meetings and nearby fridges, it's easy to get side-tracked from the actual work you have on your plate. Try to overcome this by setting time aside in your diary – block it out just as you would do for a meeting. The same can be applied to those pro-active thinking sessions that might give you more clarity for upcoming tasks, thus helping you to feel more prepared and less stressed when the time comes.
4) Stay social
No, not social media, we're talking real life here. Try to use the added time in your day to catch up with friends and colleagues – preferably in person. You could also add some extra exercise into your schedule – or kill two birds with one stone by exercising with a friend. Making the most of opportunities to connect with others is proven to make you feel happier – especially if you've been isolated at a computer for long periods.
5) Mark the end of your working day
Forget that 'one last email' mentality and have a set time to finish up. You could also mark the end of your day with what Germans call a Feierabend – a daily evening celebration of downing tools, often accompanied by a beer. It will help you draw a line on a job well done, separate those lives we were talking about, and give you a feeling of fulfilment rather than worrying about what tomorrow brings.
There can be little doubt that, in part thanks to COVID, flexible working is here to stay. And whether you're doing 3 days in the office and 2 at home, or 2 and 3, or simply working more flexible shifts, actual face-to-face social interaction risks becoming a rarer yet increasingly vital part of the working week.
Perhaps, then, those of us who succeed in this brave new world will be the ones who actively seek out the company and collaboration of colleagues, all while achieving a greater work/life balance. And maybe, just maybe, we might also gain the freedom and focus we need to do our jobs even better.
---
References:
https://www.nytimes.com/2020/12/14/technology/google-delays-return-to-office-and-eyes-flexible-work-week.html
Other reference:
https://www.cnbc.com/2020/05/27/so-your-company-has-said-you-can-work-from-home-forevernow-what.html
https://www.shrm.org/hr-today/news/hr-magazine/0417/pages/how-hr-can-promote-flexibility-in-blue-collar-jobs.aspx
https://www.theatlantic.com/health/archive/2020/05/work-from-home-pandemic/611098/
https://hbr-org.cdn.ampproject.org/c/s/hbr.org/amp/2020/08/how-to-actually-save-time-when-youre-working-remotely