It's not the first thing that comes to mind when you're making the most of life, but health insurance is important to get while you're still young, or young-ish. It can help you avoid future health issues getting in the way of the important stuff.
---
The Wellbeing Starter plan includes
1
:

GP and Physio - 75% of expenses up to $150 per year (combined total limit)


Cancer care


Some surgical procedures1


Consultations2, diagnostic imaging & tests3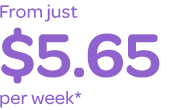 ---
You're in good hands with Southern Cross. They've been around for a while and are not-for-profit so they can focus on giving you better value. And the new Wellbeing Starter plan is not the full works so it's cheaper. For less than the cost of a couple of coffees a week, it will help get you to the GP when you need to, and will mean you're also protected for the big things like cancer.
You can upgrade to another plan later for more comprehensive cover, and in the meantime you'll have insurance that covers some of the important stuff 'right now' which is kind of cool.
---
Get a quote for this plan >
or
request a call back to discuss with us
.
1 This plan does not cover healthcare services for gynaecology, urology and orthopaedics (restricted specialties) unless directly required for the treatment of cancer.
2 Limited to 5 visits per claims year up to $5,000 per claims year (in total). 5 visit limit and 6 month rule does not apply to oncologist consultations. Excludes psychiatrist and all skin lesion consultations
3 Must be performed within 6 months of related eligible surgical treatment and cancer care to be covered.
* Based on a 21 year old with a healthy lifestyle reward and direct debit discount.