Covid is still a very real risk when travelling – showing up in hundreds of claims for leading travel insurer Southern Cross
Thursday , 20 July 2023
The illness continues to wreak havoc with travel plans for New Zealand and Australian customers
Southern Cross Travel Insurance includes Covid cover in all policies
While it might seem increasingly uncommon for friends, family, and colleagues to be coming down with Covid-19, the virus is well and truly circulating[1] and continues to get in the way of travel plans for New Zealand and Australian travellers.
Southern Cross Travel Insurance (SCTI) has crunched the numbers across the two markets they support travellers in; Australia and New Zealand, and reveals the virus is still rife when it comes to travel insurance claims, meaning the team is keen to ensure customers know they are covered if plans come unstuck.
"Back in 2020, we stepped into action to support Kiwi and Aussie travellers right from the start of the pandemic, including refunding policies worth millions of dollars for those who were faced with borders slamming shut. We introduced Covid-19 cover as soon as we were able, delivering a solution that we were confident offered solid, great value cover for Kiwis. Covid continues to be one of the main reasons our customers claim, and it looks like it's going to affect travellers for some time to come," says Jo McCauley, CEO for SCTI.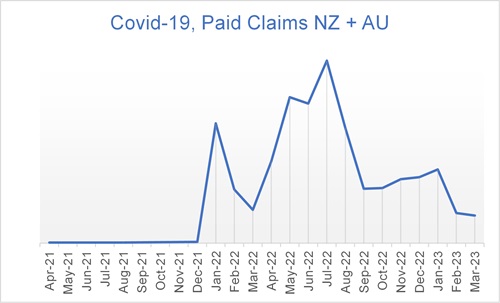 "Taking a look at the data for our International Comprehensive policy, it's clear claims spiked as travellers really started to take off around the world again. And, while there's been a dramatic slump since September '22, Covid still makes up 11 per cent of all claims paid to customers across the two markets.
"On average we are paying out claims for cancellation and travel disruption due to Covid to the value of $1,500, which is a sizeable cost.
"Travel can be expensive these days with many airlines still struggling to stand up more capacity and staff. It's easy to see how the cost of a delay or disruption thanks to Covid starts to stack up. To that end, we advise all travellers to check their policy wording or to contact your insurer to see if they cover events related to Covid, as we do."
On that note, the Southern Cross team also took a look at where travellers were headed when Covid impacted their plans.
"The data indicates just how ready we are to see the world again. For example, travellers from New Zealand were certainly keen to visit family and friends or to holiday in Australia, soaking up the warmth of Queensland and the vibes of Melbourne. But the USA, UK, Fiji, and the Cook Islands have also been key destinations."
The USA, Japan and China have only recently opened their borders to non-vaccinated travellers. There are a handful of other nations which still have restrictions or conditions in place[2] so it's best to check before booking, paying and departing.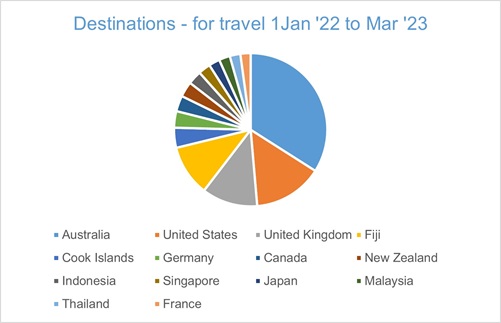 McCauley says, "We're encouraged by the leap in policy sales which reflects the desire of New Zealanders and Australians to travel again. Our own Future of Travel research supports this with 87 per cent of Aussies making plans and 95 per cent of Kiwis wanting to head away in NZ or overseas in the next 12 months. But, we thoroughly recommend taking out travel insurance which will cover you for the unexpected, or Covid. It's still very much at large and impacting our customers' plans."
Customer feedback
When my family had to return home and I was left alone in Canada, isolating and sick with Covid, stressed and unsure, I always received friendly, understanding, and helpful advice and assistance every time I phoned with a concern or question about my policy or what I should do. It made my situation a lot easier having that support while in a really difficult and unknown situation – Jonathan
We are very thankful (for) how well you listened to our situation and understood our circumstances (contracting Covid). So, thank you SCTI we look forward to doing travel insurance with you again – Jessica and Regan
I'm very happy and pleased that I chose Southern Cross for my travel insurance. My mum got Covid and all I had to do was email and everything got sorted. I placed a claim through, and it was approved within a timely manner. Great follow up during the whole process. Thank you for making the process smooth and easy, as these situations can be stressful - Silei
---
[1] Roughly 1,500 cases a day are reported in Aotearoa while in Australia more than 5,000 cases are being reported daily
[2] This useful guide from Kayak.com offers up-to-date information for travellers heading offshore