Travel insurer wins gold for customer service amid challenging disruption from COVID-19
Monday , 23 November 2020
In a year that saw the travel industry hit hard by the pandemic, Southern Cross Travel Insurance (SCTI) has been recognised for its care for customers with the travel insurer winning gold at the 2021 Quality Service Awards.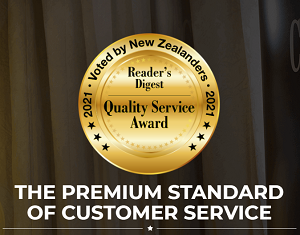 Reader's Digest conducts the awards every year to determine which New Zealand organisations have delivered the most outstanding customer service. Consumers are surveyed and rate organisations' customer service in relation to personalisation, understanding, simplicity and satisfaction. Reader digest 200 x 300
This is the second year in a row that SCTI has won gold in the highly competitive travel insurance category.
CEO of SCTI, Jo McCauley, said winning gold for its customer service in a year when COVID-19 rocked the international travel industry is testament to how the organisation acted swiftly to support travellers during what was a challenging time.
"We're proud of our response to the pandemic and we believe it was market-leading. We were there for our customers right from the outset of COVID-19 helping to get Kiwis stranded overseas home safely.
"We were also proactive in offering refunds for policies and waiving cancellation fees for customers who were not able to travel due to the ongoing global travel restrictions," said McCauley.
In September this year, SCTI recorded its highest-ever Net Promoter Score which measures customer satisfaction.
"Receiving this award is confirmation of our absolute focus on doing everything we could to support our customers when they needed us most. Despite international travel being severely reduced, we've focused our efforts this year on launching new initiatives so we can continue to support our customers.
"This has included responding to changing travel trends and launching a domestic travel insurance product to give Kiwis peace of mind while on holiday in New Zealand. We've also strengthened our commitment to transparency by writing this policy in plain language and updated our website to help make the claims process smoother," said McCauley.
Louise Waterson, Editor-in-Chief of Reader's Digest, said the challenges of this year have highlighted the importance of delivering excellent service to customers.
"The team at Southern Cross Travel Insurance has faced extraordinary challenges, helping vast numbers of their customers who faced financial and emotional hardship brought on by COVID-19's disruption to global travel. Dealing with the disappointment of cancelled travel plans is no easy task, but the skill, professionalism and kindness shown by the SCTI team towards their customers has not gone unnoticed. New Zealanders value their efforts and have shown their appreciation by rating SCTI gold class in customer service," said Waterson.
ENDS