Southern Cross launches new brand campaign capturing the essence of one small word – 'with'
Wednesday , 1 July 2020
Southern Cross has launched a new integrated brand campaign aiming to convey a simple message: 'We're with you'.
The campaign, created by independent Auckland agency True, incorporates TV, print, outdoor, social and digital.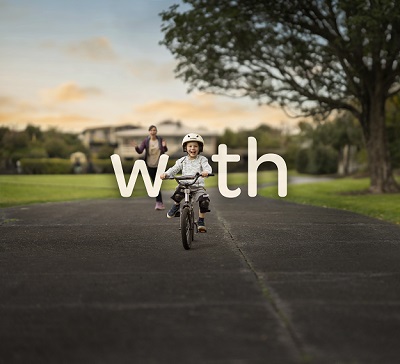 Kerry Boielle, Chief Sales & Marketing Officer for Southern Cross' health insurance arm, said the campaign was about human relationships and the unique partnerships many Kiwis have with Southern Cross.
"We want to remind Kiwis, 'We're with you' – as so many are with Southern Cross. We are partners in their health and wellbeing journeys and we wanted to celebrate the relationships that matter most to us."
The new campaign, shot over two days at multiple locations around Auckland, was born out of a truth about the unique relationship Kiwis have with Southern Cross, said True's Executive Creative Director, Tim Huse.
"Over 800,000 New Zealanders don't just 'have' health insurance – they say they're 'with' Southern Cross. It's a small but meaningful distinction that is heard every day in conversations at doctor's surgeries, hospitals and beyond.
"Therefore 'with' is at the heart of the campaign and we believe it encapsulates the essence of Southern Cross' enduring connection with Kiwis that others cannot own."
CREDITS
Agency: True
Creative: Tim Huse, Jane Langley, Neill McAlpine
Group Account Director: Samantha Parsons
Account Director: Ashleigh Badenhorst
Producer: Casey King / Amanda Chambers
Film Production: Good Oil Films
Director: Adam Stevens
Executive Producer: Andrew McLean
Editor / Post Director: Luke Haigh
Music: Cam Ballantyne
Sound: Liquid Studios
Post-Production: Blockhead – Nigel Mortimer
Motion Designer: Kyle Stoffberg
Facilities / Post Manager: Adriana Arriaga
ENDS