Dental care provided free to hundreds of New Zealanders in September
Tuesday , 3 September 2019
Two weeks of free dental procedures will be provided this month, as Smile NZ aims to reach the milestone of providing 4000 people with dental treatment in five years.
Fifty-eight New Zealand Dental Association (NZDA) member dentists from 40 clinics will treat around 800 people, with practices from North Auckland to Mosgiel taking part between 7-22 September.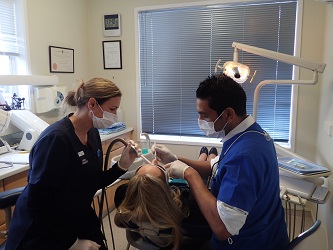 Into its fifth year, Smile NZ is a joint initiative between Southern Cross Health Trust and the NZDA, where dentists from around New Zealand open their practices for a range of common complaints including fillings, restorations and extractions, fluoride applications and pain relief.
Southern Cross Health Trust Chief Executive Terry Moore says appointments for Smile NZ are filled already, showing the high level of demand for dental care among low income adults.
"Dental care can be costly for adults and is not covered by the public system, except for emergency care from some DHBs and WINZ. Southern Cross is proud to support this fantastic initiative through our charitable trust."
Southern Cross Health Trust funds dental practices for the use of premises, equipment and dental assistants.
New Zealand Dental Association Chief Executive David Crum says the dentists happily volunteer their time to Smile NZ.
"The hundreds of hours donated for free by dentists each year, some of them taking part for five years, is wonderful to see. From eliminating pain to making it easier to eat and to speak clearly, dental care makes a big difference to people's lives."
Patients also receive oral health education and a free hygiene pack.
So many reasons to smile:
800 people will receive free dental treatment during 30-40 minute appointments this year.
As a result of this year's Smile NZ, 4000 people will have received free dental treatment in five years.
58 dentists are donating their time – a total of more than 400 hours.
Smile NZ is funded by Southern Cross Health Trust, a charitable trust and part of the Southern Cross group of health and wellness businesses.
Appointments are open to Community Service Card holders by booking in advance, with all available spots now filled for 2019.
ENDS