Crouch, touch, paws, engage - Kiwi pet namesakes of rugby legends
Monday , 9 September 2019
As rugby fans across the country prepare for one of the most anticipated tournaments in sport, Southern Cross Pet Insurance has revealed a common trend among its rugby-loving customers and their insured fur-babies.
Richie McClaw, Lomu, Tana, and ZinZan are just a few examples of much-loved pets that have been named after Kiwi rugby legends. From Burmese and British Short Hair cats to Greyhounds and Bichon Frise crosses – it appears no matter the breed, there is a rugby name to fit all.Zinzan and Carlos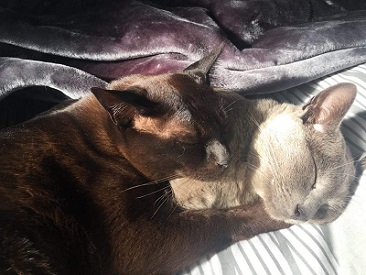 ZinZan was the winning name of choice for one rugby-obsessed fan, with Zinzan Brooke a historical favourite in the family's household. Powerfully built and often referred to as a 'mack-truck' of a Burmese by the local vet – this boy loves to playfight with his brother, Carlos (named after Carlos Spencer) – with the two known to be real teammates.
Other rugby-related names on the books at Southern Cross Pet Insurance include:
Beauden – Dog
Lomu – Cat
Sir Richie McCaw – Dog
Zinny – Dog
Beaudy – Cat
Southern Cross Pet Insurance Head, Anthony McPhail, says, "We know that pet owners are no strangers to naming their pets after heroes and legends, and if there's one sport that provides a host of legends to choose from – it's rugby.
"As the World Cup fast approaches, we wanted to showcase just how many New Zealanders are naming their animals after sporting heroes, while also reminding people to keep their furry friends safe and healthy.
"Pets regularly find themselves in a number of unexpected situations which can come at a real cost to their humans. Luckily, ZinZan was covered for two bouts of Bronchial Pneumonia and his diabetes diagnosis," says McPhail.
ENDS
Editor's Note:
This release is dedicated to ZinZan the Burmese cat who has sadly recently passed away after a battle with an illness.
His owner Kristy wants to reiterate that without pet insurance, ZinZan wouldn't have had access to treatment for his bronchial pneumonia or diabetes and would likely have passed away as a kitten.
She hopes this will encourage other pet owners to insure their beloved pets and help give them a chance if they fall ill.