North Shore Surgical Centre already helping to meet demand for local healthcare options
Friday , 13 December 2019
The newly opened North Shore Surgical Centre in Takapuna is a welcome addition to the community by residents needing more options for high quality care.
The day stay hospital which opened in September is a Southern Cross Hospitals joint venture partnership with a group of leading orthopaedic surgeons within the region.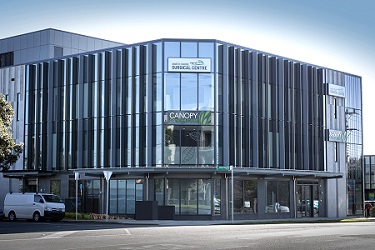 Designed by award-winning architects Peddle Thorp, it has two state-of-the-art operating theatres and a third is scheduled to open as the clinic expands in the future to cater for growing demand.
In three months, the facility has already performed more than 500 procedures and numbers are expected to rise once it is at full capacity.
The centre primarily offers keyhole orthopaedic surgical procedures such as knee arthroscopies, ACL reconstruction surgeries as well as hand, elbow and shoulder, and foot and ankle surgeries.
Southern Cross Hospitals Chief Executive Officer Terry Moore says the hospital will offer patients timely, high quality care, while minimising wait times and getting them back on their feet more quickly.
"The North Shore has a fast growing population which is also ageing. Southern Cross Hospitals expects this to be a welcome addition to healthcare options for communities in the region," he says.
Orthopaedic surgeon Tony Danesh-Clough says the facility was designed to make the patient and staff experience as pleasant as possible.
"Operating theatres have previously been designed as completely enclosed spaces with no natural light but we now know that sunlight and outdoor views have a number of positive benefits for doctors, nurses and patients. This includes increased alertness and reduced fatigue and stress levels.
"To better support recuperating patients and staff, the centre's recovery areas also feature floor-to-ceiling windows that provide an abundance of natural light. The facility has integrated aspects of natural materials and neutral colours to help patients feel at ease, from the start to finish of their visit," says Danesh-Clough.
Peddle Thorp Project Design Lead, Miller Guirguis noted that operating theatre design is continually evolving to meet the dynamic requirements of service providers, as dictated by new procedures, technologies and developments in the healthcare sector.
"Healthcare architecture is complex in that it must respond to the needs of patients and medical staff, while also needing to be future-ready for new technologies and innovation. This new facility is at the cutting edge of healthcare design and will ensure North Shore patients are cared for to the highest standards for years to come," says Miller Guirguis.
ENDS