Beware the ordinary in extraordinary places
Friday , 1 September 2017
For the past decade Karori resident Catherine Vernon has biked around Wellington, participated in cycling events and completed several triathlons – all without incident or injury.
So the last thing she expected while holidaying in France around this time last year was to break her hip and elbow on a leisurely cycle tour.
The subsequent 17-day hospital stay came with a NZD$120,000-plus price tag which, thanks to her pre-planning, was picked up by Southern Cross Travel Insurance. And now her claim also has the dubious honour of being among the top ten most expensive claims paid out by the travel insurer over the past year.
An hour and a half after setting off on her tour from Toulouse with her husband and friends, the then-59-year-old was riding alongside a canal and pointing out how beautiful it was.
"I was thinking 'this is the most innocuous bike ride I've ever done'," she says, with some irony. "I've biked around Wellington, up and down hills, done events…compared to that it was easy riding on a flat, asphalt path."
But what the mother-of-three didn't see was a tree root in the path ahead. She failed to get her hand back on the handlebar in time and was thrown off her bike, leaving her in a bloodied heap. It was an abrupt end to what should have been a six-week holiday finishing in Spain.
"If we hadn't had insurance I would have felt so stressed out and sick - on top of my injuries. We'd have had to take out a loan. I don't know what we'd have done," says Mrs Vernon.
According to Southern Cross Travel Insurance CEO Chris White, Catherine Vernon's experience is an example of how it's the ordinary things that can be your undoing when exploring extraordinary places.
"One of the common misconceptions travellers have is that they don't need travel insurance because they're not planning to do anything risky while they're away," White says. "But the fact is, sometimes it's the everyday things that cause you to come unstuck when you're overseas."
White says another of the travel insurer's high value claims was from a lady who broke her ankle when she simply missed a step at her son's house in the US.
"Again, it's something that could happen at home or overseas, but the implications are more serious and costly when you're in another country. That claim came in at more than $68,000."
White adds that sometimes, it just boils down to bad luck.
"It may just be the change of environment – you're more relaxed, you're distracted by the amazing surroundings, you're excited to finally be with friends or family, you forget you're somewhere where the cars drive on the other side of the road..."
Bur regardless of the cause, White says travel insurance makes it faster, easier, cheaper and less stressful to access the help you need when the unexpected happens.
It's a sentiment Catherine Vernon, who has now made a full recovery and is back to swimming, jogging, cycling and Pilates, agrees with.
"I've been so, so lucky."
ENDS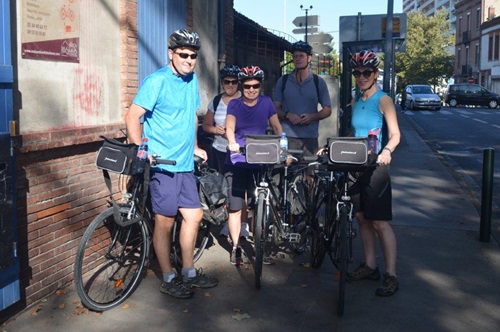 BEFORE: Catherine Vernon (centre, wearing purple) and husband Richard (left) were a week and a half into their six-week holiday when they set out on a cycling tour in Toulouse with friends along the Canal Midi.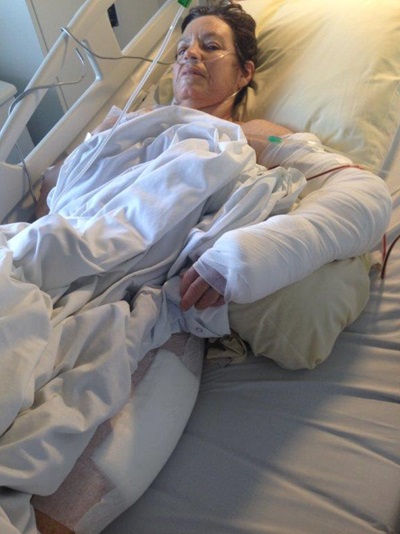 AFTER: Less than two hours into the ride, Catherine had a fall from her bike and spent the next 17 days in hospital with a fractured hip and elbow before returning to New Zealand with the assistance of two medical escorts.