Pet owners opting for oodles of Spoodles and Cavoodles
Monday , 21 August 2017
What do you get when you cross a Maltese with a Miniature Poodle, a Miniature Schnauzer and a West Highland White Terrier, or a Golden Retriever with a Miniature Poodle?
The answer is some of the most loved designer breeds, as an increase in Malti-Poos, Wauzers, and Retradoodles contribute to the significant increase in designer dogs insured with Southern Cross Pet Insurance during the last ten years.
'Designer dogs' are a combination of two pure-bred breeds and, last year, the most popular designer dogs signed up for Southern Cross Pet Insurance were the Cavoodle, a cross between a Poodle and a Cavalier King Charles Spaniel, and the Spoodle, a mixture of a Cocker Spaniel and a Poodle.
Southern Cross Pet Insurance Head Anthony McPhail says the insurer has seen huge growth in the number of designer dogs between 2007 and now.
"We have 379 different dog breeds on our books, and while the traditional breeds such as the Retriever Labrador Cross and Miniature Schnauzer are still the most popular, designer breeds are chasing their tail.
"In 2012 we had just 19 Cavoodles, nine Spoodles, and nine Labradoodles sign up for Southern Cross Pet Insurance. But by last year, we had 115 Cavoodles, 98 Spoodles and 73 Labradoodles sign up.
Five years ago we didn't have any Cavachons, a Cavalier King Charles Spaniel-Bichon Frise hybrid, on the books, but last year we started insuring nine of this breed," says McPhail.
It's been suggested before that designer dogs may be less likely to inherit health conditions because they combine the best of both breeds.
But McPhail says there are, in fact, no guarantees about what characteristics any puppy will take from each parent and their lineage.
"It's always important to check which inherited and congenital conditions the two contributing breeds are associated with, as well as whether the appropriate health testing has been carried out and what the results are. All things you should be thinking about before purchasing any pet."
Inherited conditions are genetic problems passed down through your pet's bloodline, such as hip dysplasia (where the hip joint is abnormally formed). While they can be expensive to treat, Southern Cross provides cover for qualifying inherited conditions.
Congenital conditions (anomalies or defects that are present at birth or likely to be apparent once the pet is older), on the other hand, are not always covered. Examples of these are cleft palates, some hernias and excessive skin folds.
"We all know when your pet is sick or injured, it's a stressful time. There's no public health system for pets, so you're sometimes confronted with difficult decisions about how much care and treatment you can afford.
"Knowing the possible inherited and congenital conditions upfront means you can decide whether the breed you're considering is the right one for you, get an idea of how much future treatments could potentially cost, and whether you should take out pet insurance, or put money aside to plan for these," says McPhail.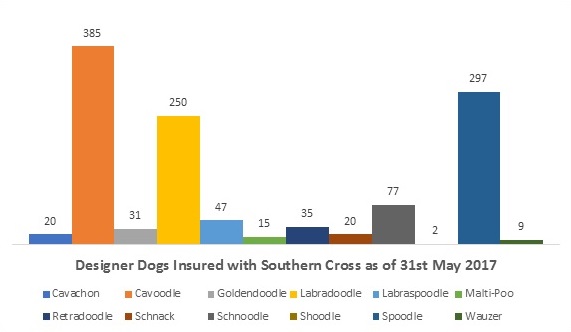 About Southern Cross Pet Insurance:
Southern Cross Pet Insurance looks after the health of more than 20,000 Kiwi pets. In the past year, Southern Cross Pet Insurance paid out more than $5.8 million in claims.