Kiwis urged not to rely on fundraising in lieu of travel insurance
Monday , 19 June 2017
One in six New Zealanders is putting themselves at risk by travelling overseas without insurance, instead relying on public appeals for money to pay medical bills should something go wrong.
Research from New Zealand's largest travel insurer, Southern Cross Travel Insurance (SCTI), shows 61% of New Zealanders believe it is unacceptable for travellers without insurance to seek public funding after suffering accidents or medical emergencies overseas.
Despite this, almost one third (29%) of Kiwis don't take out travel insurance when heading overseas, making them vulnerable to financial hardship if something goes wrong.
SCTI CEO Chris White says New Zealanders sometimes adopt a "it'll be right" attitude when travelling overseas and pass up the security of travel insurance.
"One quarter of New Zealanders told us they have required medical assistance at some stage while travelling overseas. So being insured can be the difference between managing travel hiccups and having it ruin your holiday – and finances beyond - particularly because research tells us that the public won't necessarily come to the party and pick up unexpected bills."
At the top end of the claims list, SCTI paid 10 medical claims exceeding $200,000 last year.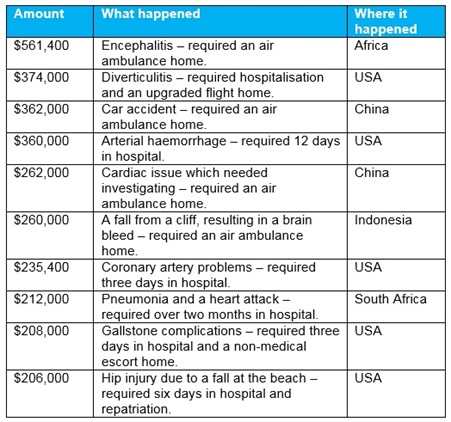 "New Zealand has reciprocal health agreements with Australia and the United Kingdom which means New Zealand citizens can access certain health services in those countries at the same cost as locals. But it's a very different story in other countries where any kind of hospitalisation can quickly result in huge medical bills.
"There are very few places overseas where Kiwis can access free healthcare – and our research showed 90% of Kiwis are aware of this. However, illness and injury overseas can take anyone by surprise, and it is usually extremely difficult to front up for unexpected bills.
"While we all hope we'll escape our holiday without falling sick or suffering an injury, considering potential risks and preparing yourself for the unexpected will always pay off – especially when we know most people back home are probably not going to fork out for your bills. The average approximate cost of Southern Cross Travel Insurance is less than $115 per traveller which, in the grand scheme of things, isn't much more than a dinner out with the family while you're away," says White.
ENDS
Note:
The Southern Cross survey was conducted by TNS online amongst 2,007 randomly selected New Zealanders and was carried out in October 2016.