Southern Cross release top claims for each age group
Wednesday , 15 June 2016
Southern Cross Health Society has released the top five surgical claims by paid total for men and women in each age bracket.
In 2015 Southern Cross paid $842m in claims. While elective surgery made up only a small percentage of the total claims (191,000), surgeries accounted for 73% of total costs.
Head of Provider Networks Geoff Searle says the data highlighted the fact that Kiwis go under the knife throughout their lives.
"Younger members tend to claim for speech and hearing procedures like tonsillectomies and adenoids. Men under 35 claimed for things like hernia injuries and tooth extractions, while in the same age group females made claims that affect fertility such as endometriosis surgery, ovarian cysts and the removal of abdominal lesions.
"There's a tendency for people to think health insurance is something they'll need in their later years, but this data shows that Kiwis undergo procedures that affect quality of life, throughout their lives," says Searle.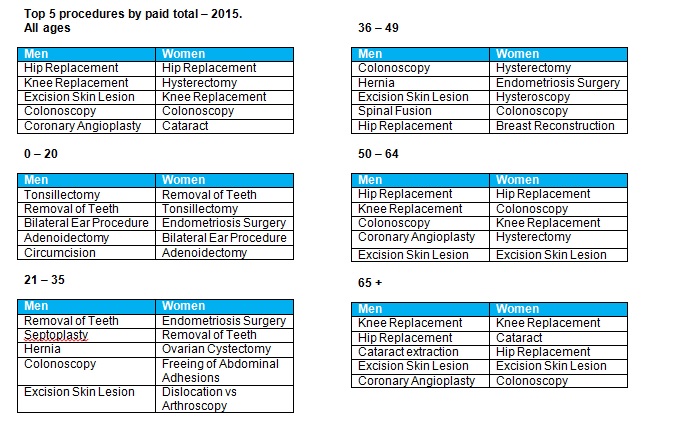 Southern Cross have released this information to help Kiwis become better informed about the realities of healthcare.
For example most people also wouldn't be aware that these procedures can be quite costly to treat.
Endometriosis surgery can cost anywhere between $4,400 - $18,800, and a small procedure such as a tonsillectomy can cost between $3,200 and $4,300. Larger procedures such as hip and knee replacements can cost between $19,600 - $29,100.
"No one is immune from developing a health condition – regardless of age," says Searle.
"We want Kiwis to be informed when it comes to the procedures they're likely to need. The last thing anyone would want is to need treatment and be unable to access or afford it."