At a time when monitoring the health of Kiwis has never been more important, Southern Cross is preparing to launch a comprehensive study into New Zealander's health and wellbeing – the Southern Cross Healthy Futures Report.

The in-depth study, developed in partnership with Colmar Brunton, has tracked the physical, emotional and social health of more than 3,000 New Zealanders. Research* began in 2019 and continued during this year's lockdown in Alert Level 4 and 3, giving Southern Cross remarkable insight into the nation's psyche.

The data has revealed interesting shifts in Kiwis' attitudes and behaviours experienced during lockdown and Southern Cross is releasing these as early findings before the full report launches in July.

Southern Cross Health Society Chief Medical Officer, Dr Stephen Child, said, "We are committed to inspiring Kiwis to advance their health and wellbeing. We're hoping that the development of the Southern Cross Healthy Futures Report will help shine a light on the issues most important to New Zealanders and support them towards a healthy future.

"When the outbreak of COVID-19 sent New Zealand into lockdown, the crisis impacted the way Kiwis perceive the world and their outlook of life at home in a way never seen before in their lifetimes. With this research already underway, we found ourselves in a unique position to capture valuable changes in Kiwis' health and wellbeing," he said.

While there was uncertainty during lockdown about the potential impact to health, job security, family pressures and the economy, the Healthy Futures Report revealed that New Zealanders reported feeling less stressed overall during that time.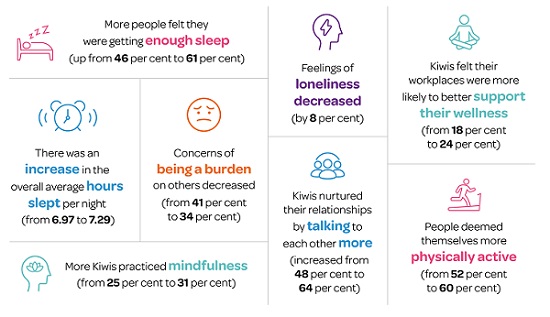 The slower pace of life resulted in more people feeling that they were getting enough sleep (from 46 per cent to 61 per cent). The hours of sleep increased from 6.97 hours to 7.29 hours, moving Kiwis into the recommended range of 7-9 hours of sleep.

Added Dr Child, "It's well-known that one of the barriers to a good night's sleep is anxiety and the research showed that during lockdown, anxiety as a reason for disrupted sleep dropped from 41 per cent to 34 per cent, and there was a 10 per cent reduction in people having too much to think about when lying in bed."

Despite being isolated physically from friends and family during lockdown, feelings of loneliness decreased (by 8 per cent), as did concerns of being a burden on others (from 41 per cent to 34 per cent). Kiwis also experienced a greater sense of belonging and connectedness to their community (from 44 per cent to 49 per cent).

"Despite being physically isolated from friends and family during lockdown, findings showed there was an increase in the nation's connectedness to their direct community. We were kinder to each other, smiled to strangers on the street, had conversations over fences, and even went searching for bears in windows," said Dr Child.

When it came to fitness, more people felt they were getting enough exercise during lockdown than previously (from 37 per cent to 41 per cent), and people chose to exercise outdoors more (up by 10 per cent).

Additionally, more Kiwis agreed that their work-life balance was now 'excellent' compared to pre-lockdown (from 10 per cent to 14 per cent) and felt their workplaces were more likely to better support their wellness (from 18 per cent to 24 percent).

"While we can't ignore the struggles that came from being isolated in our bubbles and worries about the economy and jobs, it's heartening to see that as a nation we've adapted and developed healthy habits even in tough times. The opportunity for everyone now will be to make sure these habits become the 'new normal'," said Dr Child.

ENDS
*The Southern Cross Healthy Futures research study involved desktop and qualitative research with a total of 3007 people from across New Zealand that included:
•
Seven in-home immersions
•
54 life-streaming discussions: four-day online forum with n=54 people
•
Online survey:
o
Wave 1 – fieldwork: 4 – 30 October 2019 (Spring) n=1000
o
Wave 2 – fieldwork: 2 – 15 March (Autumn) n = 1007
o
Wave 3 – fieldwork: 22 – 28 April 2020 (COVID-19 lockdown dip) n = 1000