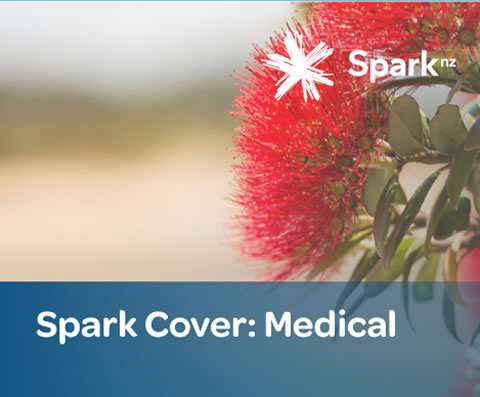 Welcome to your exclusive offer from Spark and Southern Cross
Spark thinks it's important in today's world to protect your health and wellbeing, and is pleased to offer you Spark Cover: Medical.
It's health insurance fully paid for by Spark through its special partnership with Southern Cross Health Society.

Don't forget our unique offering - your partner and dependent children (under 21 years of age) can also take advantage of the special rates, but this is for a limited time only.

Remember, unlike other Spark Cover benefits, you need to apply for this benefit.
How to join
New to Southern Cross?
Keep an eye out for an email from Southern Cross with an online application form coming your way.
Already with Southern Cross?
Call our member service team on 0800 800 305 to make the switch to Spark Cover: Medical. We're here to help Monday to Friday, 8am to 6pm.
Get cover right away for qualifying pre-existing conditions
You'll be
covered immediately for qualifying pre-existing conditions
without having to answer any health questions, if you
join within the initial joining period
. Better yet, this applies to your partner and any dependent children (under 21 years of age) that sign up too.
What's included in your cover?
Having health insurance means you'll have peace of mind that you can get the treatment you need, when you need it.
Spark is paying for you to have:
Wellbeing Two is a comprehensive surgical and healthcare plan with cover for cancer care and unlimited surgical treatment*, plus specialist consultations, diagnostic imaging and tests at any time.
Find out more.

You can take advantage of a flu vaccination each claims year, contributions towards GP and nurse, psychologist consultations, plus an annual health check.
Find out more.
If you'd like more comprehensive cover, you can pay extra to step up to our UltraCare plan or add another module.
More reasons to join Southern Cross
Enjoy a suite of great partner offers and member discounts – find out more here.
Want to know more?
Check out our FAQs for answers to a few common questions or call us on 0800 800 305 Monday to Friday 8am-6pm.
*Subject to prosthesis limits. Terms, conditions & exclusions apply to our plans. See policy documents for more information.