Here for a healthier New Zealand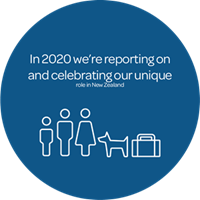 Established in 1961, our founders believed that New Zealanders deserved ongoing access to quality private healthcare options. Today, the spirit of those who began Southern Cross lives on in our not-for-profit business model and the trust, compassion, care and leadership we invest in making Kiwis' lives better.
Ours is a unique role in New Zealand. We now help more Kiwis than ever to look after their health and wellbeing and that of their families. We support them whether they're at home in New Zealand or travelling abroad. That support extends to family members such as a much-loved family pet.
1 million + Kiwis receive our care and attention
The 2700+ people who work in our businesses bring energy and humanity to everything we do. Their good work, service and commitment ensures that the more than one million New Zealanders who look to us as members, customers and patients continue to receive the very best value, care and attention.